Press Releases

WCSO Charges Teacher/Coach With Sexual Battery
March 29, 2010
Printer-friendly version!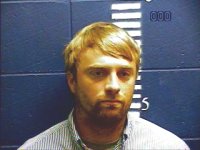 The Wayne County Sheriff's Department concluded a week's long investigation with the arrest of Richard Craig Bush. Sheriff Farrior assigned the case that came to the Sheriff's Department's attention on Monday December 14th 2009 to Investigators Mike Mozingo and Kevin Stevens. The case was initially reported to Sheriff Farrior by Superintendent of Education Robert Dean. Investigators Stevens and Mozingo began interviewing numerous individuals that had relative information to the case. "The investigation process brought forth overwhelming evidence. A great deal of time and work went into this investigation," said Sheriff Farrior.

County Attorney Curtis Bates represented the prosecution in Circuit Court Monday, December 28th 2009, at a probable cause hearing. After hearing testimony from Investigator Mozingo, Circuit Court Judge Lester Williamson ruled that probable cause existed for an arrest warrant.

Bush turned himself in at the sheriff's department on Tuesday, December 28th 2009 and was charged with six counts of Sexual Battery. The charges stem from reported inappropriate sexual conduct between Bush, who is a teacher/soft ball coach at Wayne County High School, and student(s). The case will be presented to the July 2010 Wayne County Grand Jury by Investigator Mike Mozingo. Wayne County Justice Court Judge Jane Hutto conducted an Initial Appearance for Bush around noon Monday, December 28th 2009 at which time bond was set at $10,000.00 per count.