Wayne County Sheriff's Department
Most Wanted

John Thomas Welch
March 29, 2010
Printer-friendly version!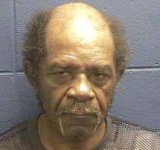 Name: John Thomas Welch
Address: 603 Denham Winchester Road
Alias(es): J T
DOB: 03/31/41
Race: Black
Sex: Male
Build: Medium
Height/Weight: 5'11" - 162 lbs
Hair/Eyes: Blk/Bro
Marks/Features: N/A
John Thomas Welch is wanted by the Wayne County Sheriff's Department for a bench warrant issued by Wayne County Circuit Court for possession of cocaine with intent to distribute. Welch was out on bond and failed to appear for his November court date.




Do NOT attempt to apprehend this person. Anyone that may have information about this person is asked to call the Wayne County Sheriff's Department at 735-2323 or Crime Stoppers at 735-LEAD (5323). You can also submit information online using our "Submit a Tip" form.